Shelter Shutters has replaced hundreds of lockdown Roll Up products after several failed active lockdowns.
Get it right the first time. Your school deserves the most secure product available.
Roll Ups last a few years. Shelter Shutters last a lifetime.
Although sometimes called window shades, window blinds or even window curtains, Shelter Shutters are the only lockdown window covers that operate like a shutter.
Completely block out visibility into a room. Easily open and close.
Test it for yourself. Click the button below to request a free sample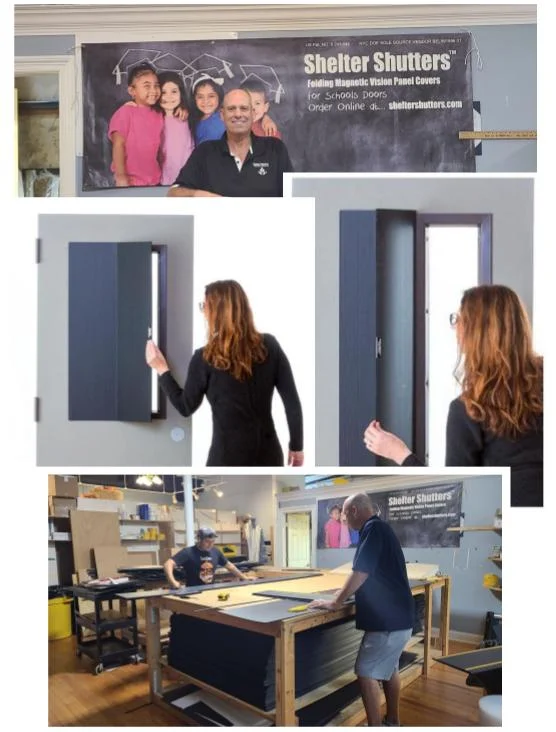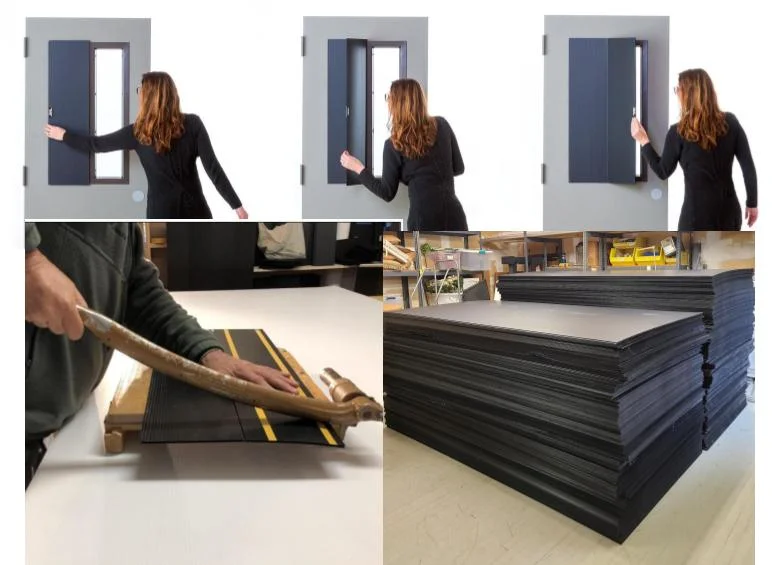 Safety Window Covers for All Door Types
Shelter Shutters are security window shutters for school lockdowns that completely black out views into your classroom and immediately snap back into place after the emergency is over.
Although sometimes called security window shades or security window blinds, Shelter Shutters are the only lockdown window covers that operate like a shutter. They are made from fire-rated or non fire-rated corrugated vinyl, depending on your preference.
Although designed specifically for school lockdowns, our Shelter Shutters are also used in clinics, daycares, office buildings, churches and any other facility where safety is top priority.
How it Works
Made with corrugated vinyl and embedded magnets, our Shelter Shutters easily open by pulling on any edge along the length of the shutter where the "pull here" sticker is (top, middle or bottom) and folding it over. Once the emergency is over, simply pull along the same length of the shutter (top, middle or bottom) and fold it back to its original position. The entire process takes a few seconds.
ADA Certified
Most styles are ADA-Certified, making it easy for disabled staff or even a small child to operate. Made from fire-rated or non fire-rated materials, depending on your choice, our patented design is guaranteed to open and close effectively for several years.
Stock Sizes
Your ready-made stock sizes come with the necessary materials to install. Order your ready made stock sizes directly from our website or call our office today to get bulk quantity and districtwide discounts. All stock sizes can be cut to size and easily adjusted for a precise fit.
All custom sizes are made to fit your unique door glass sizes or sidelights.  Generate a quote using our Build a Quote feature and print it out for your records or present it to your bookkeeping department for approval. We offer discounts for bulk quantities and districtwide orders. Call our office to place your order today.
"I have been involved in school safety since the early 90s and I have not seen anything that has changed the face of safety like Shelter Shutters,"  
Lori Franklin, Community Education Community Education Director/Attendance Specialist. 
Shelter Shutters
Features and Benefits:
Safer Schools with Shelter Shutters
Here's what others have to say about Shelter Shutters
"To say that I highly recommend Shelter Shutters, is such an understatement. I first saw the product at a safety conference and I couldn't believe something so simple could be so effective. Shelter Shutters take very little effort and the smallest child can secure the window. They will continue to protect the children in Menifee County for years to come."
"I would recommend the Shelter Shutter for an effective, efficient and fast way to conceal visibility into an individual room or large common area."
"Just a quick follow up on the Shelter Shutters™ that were installed at Saint Catharine School in December of 2014. A survey of the staff on the products' ease and speed of operation received a 100% positive response. I would like to thank you for providing a well thought out solution to our problem."
"We have utilized the shutters during all of our lockdown drills. Love them. Our teachers have expressed their gratitude as well. Congratulations on the patent. Well deserved."
"The shutters have shaved off valuable seconds to our lockdown procedures."
Disclaimer: If the bottom of your window is higher than 48 inches from the floor, your shutters can be made longer to meet ADA standards.