This solution has working shutters on both the top and bottom glass panels. With working shutters on the top and bottom, you can choose to leave the bottom closed if wanted or it can be opened if more view is required.
WORKING SHUTTER TOP – WORKING SHUTTER BOTTOM
Double glass up to 24″ x 33″ each
Included:
1 Multi-Fold Shelter Shutter for top glass (Fire Rated NFPA 701)
1 Multi-Fold Shelter Shutter for bottom glass (Fire Rated NFPA 701)
2 Pairs of Spacers (for use if window frame protrudes past door surface)
2 Sets of Steel Adhesive Plates (for use on doors with no steel window frame)
Working Shutter Top and Bottom
$170 ea up to 25 doors
$156 ea 26-99 doors
$130 ea 100+ doors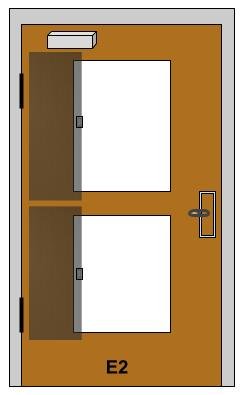 Returns
Shelter Shutters™ offers a 30-day return policy.
Ship back to 703 Main St. Belmar, NJ 07719. Use the original boxes. There is no need to re-wrap it in the craft paper. Re-apply the cover on the pressure tape if possible and stack them in the boxes. Use the bubble wrap that came with the shutters to line the boxes where you can. If you need assistance, feel free to call 732-681-4900.
Guarantee

Shelter Shutters™ are guaranteed to work without failure of any component for a period of five years from receipt.
If your Shelter Shutters™ are used once daily, they will last well over twenty years. Although no certified study has been performed, our Shelter Shutters™ have been tested in our factory to open and close several thousand times and showed little-to-no fatigue to the hinge or magnetic closure system.
If a Shelter Shutter fails for any reason other than obvious abuse or misuse, it will be repaired or replaced free of charge for a period of five years from date of purchase.